As you pass a stranger on the street, you may be unknowingly passing a humble genius.
We might never have heard of Tony Burrell if Siskiyou Arts Council Executive Director Linda Dellarocca hadn't seen her neighbor hauling loads of equipment from his truck. She talked him into an interview.
Tony Burrell has been "doin' what I do" on his electric guitar for 37 years. He has his own publishing and record company, Divine Mountain Music and Divine Mountain Records. He has over 500 tunes on analog and 30 on digital.
Burrell is a self-taught musician who read and writes charts and has played at all levels. Burrell picked up the guitar one summer when he was working in heavy construction. A friend gave him one lesson and then left the job.
Burrell doodled around for 5 years before making a New Year's resolution to put 110 percent into the guitar. After that, he would spend 6 months working hard in construction and playing music 6-7 hours after work, then take the next 6 months off and play up to 14 hours a day.
His folks couldn't even play the car radio, Burrell says, but he can hear 4 to 5 harmonies at a time. As a youngster, he had trouble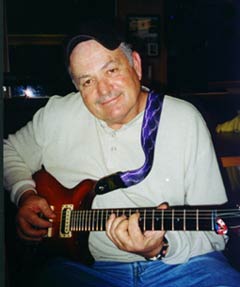 learning from the music books of the time. "They were designed to make you quit playing," he says. In 1969, as a math major in college, he bought all the books assigned to students in the music department. Within 6 weeks he had mastered the terms for the concepts he had
already worked out on his own.
A polished musician, he surprises people with his ability when doing studio work. a producer commented, "If you come to L.A. you'll be rich and famous. You could buy a studio in the mountains." Burrell's reply: "What's the point? That's what I already have."
His tunes have been ripped off many times. They have even been aired in Korea. But that's not important to him. He refuses to sell out to L.A. and lose control of his life. "I just want to play my music. I want people to like my music, but I don't use the 'hooks' that you hear on the top 40. I want to draw people over to listen to my music in a natural way," he said.
When I finally got him to elaborate what he does, he said it was simple: "All of creation is vibration. Sound is vibration. I play with tonal qualities that reach everyone's heart." Burrell has designed amps for companies such as Mesa Boogie because he needed to create the equipment that could give him the tone he was looking for. Why does he play? To harmonize the planet, hit the right notes, and get the good out there.
Tony is going to surface this coming year. Look out -- his hard-core head-banging jazz-fusion rock and roll may catch your soul.
-Meadow Holly Bar-El